GoodWe, a firm that delves in solar inverter and energy storage solutions, hosted a ceremony, in Perak, to celebrate a significant milestone achieved in collaboration with two esteemed partners, M K Land Holdings Berhad (M K Land) and Solarvest Holdings Berhad. The partnership included the completion of a 10.95-megawatt (MW) large-scale solar photovoltaic (PV) plant in Perak, Malaysia.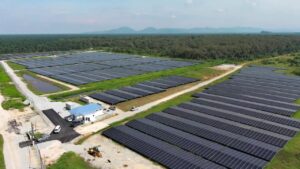 The ceremony was graced by esteemed guests, including representatives from local authorities and government bodies who played an instrumental role in supporting and facilitating this project.
The project, a part of the fourth cycle of the Large-Scale Solar 4 (LSS4) scheme, exemplifies the seamless partnership between Solarvest Holdings Berhad, the main contractor responsible for engineering, procurement, construction, and commissioning (EPCC) solutions, and M K Land Holdings Berhad (M K Land), a renowned Malaysia-based investment holding company. This collaborative effort has resulted in a project of substantial scale, boasting a total capacity of 14.43MWp (10.95MWac).
Kamarulzaman Abu Bakar, Director of Solar Citra Sdn. Bhd., the subsidiary of M K Land, which is responsible for this celebration, emphasized his appreciation for GoodWe's  commitment to this project, "The project was completed more than seven months ahead of schedule, credited to GoodWe's cutting-edge solutions and active support. With a four-year extension of the solar power purchase agreement (SPPA), it extends the total duration to 25 years compared to the original 21 years for the LSS4 project."
Davis Chong Chun Shiong, Executive Director and Chief Executive Officer of the Solarvest Group, also highlighted the significance of this first LSS4 EPCC project collaboration, "This milestone is a testament to the power of collaboration and underscores the commitment of all parties involved to driving sustainable energy solutions in the region."
James Hou, GoodWe's APAC Sales Head, emphasized, "GoodWe is thrilled to have played a significant role in advancing clean energy and reducing carbon emissions in Malaysia. Our collaboration with M K Land in this project highlights the potential of solar power in Malaysia." He also expressed his gratitude to the partners and guests representing various sectors in attendance.
This project represents GoodWe's commitment to advancing sustainable energy solutions and marks a promising beginning of more global collaborations in large-scale solar projects. GoodWe remains dedicated to working with partners to pioneer innovative solutions, empowering diverse sectors and regions to embrace sustainable energy, thus creatingS a greener future for generations to come.