Southeast Asian national oil companies (NOCs) and traditional upstream players are progressively focusing on cleaner and more environmentally friendly energy initiatives. Rystad Energy's analysis reveals a consistent commitment to these initiatives in the years to come, with investments set to exceed $76 billion from 2023 to 2025. The upward trend is set to continue, with a projected total outlay of $119 billion by the end of 2027. This expenditure will be driven by investments in wind, solar and geothermal projects.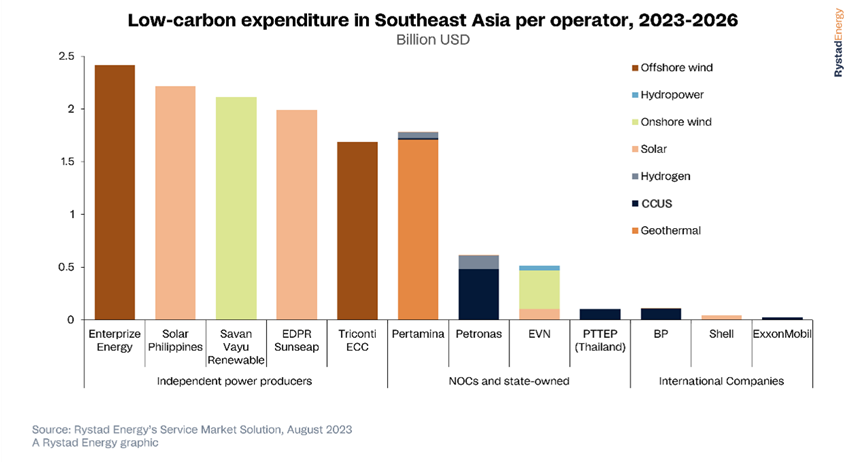 Regional NOCs like Indonesia's Pertamina are expanding their participation in geothermal, while Malaysia's Petronas aims to establish a notable presence in the carbon capture, utilization and storage (CCUS) market. The Malaysian NOC announced ambitious plans to build the world's largest dedicated facility by 2025, actively pursuing partnerships with international entities to unlock regional project potential.
When fully operational, the initiative will have the capacity to capture 3.3 million tonnes per annum (MTPA) of carbon dioxide (CO2) and securely store the collected CO2 within the reservoirs of the Sarawak region over its 25-year operational lifespan. While the total project cost remains undisclosed, Rystad Energy's estimates suggest it could reach $260 million by 2025.
Similarly, Gentari, a wholly-owned subsidiary of Petronas, has made substantial investments in solar capabilities, seeking to harness the nation's considerable renewable energy potential.
"Southeast Asia has historically seen slower progress in the development of clean energy projects. Effective collaboration between private and public sectors becomes crucial to ensure the region's sustainable long-term growth. Asia is currently making significant strides in prioritizing the shift towards greener energy sources, supported by the renewed focus of NOCs. This strategic approach will be pivotal in driving Southeast Asia's transition forward to sustainable energy," says Afiqah Mohd Ali, senior supply chain analyst with Rystad Energy.
Independent Power Producers (IPPs) Lead Green Growth in Southeast Asia
Pertamina Geothermal Energy (PGE), a subsidiary of the Indonesian NOC, takes the lead among competitors in low-carbon expenditure. PGE's dedication to expanding geothermal projects is demonstrated by its investments of about $1.6 billion between 2023 and 2026, actively contributing to the growth of Indonesia's geothermal capacity. Similarly, Petronas collaborates with international operators, Eni and Euglena, to explore decarbonization solutions alongside its ongoing focus on the Kasawari CCUS project.
In terms of international investment, global majors like Shell and ExxonMobil are displaying interest in Southeast Asian low-carbon prospects, but their immediate investments have primarily focused on Europe and North America.
Between 2023 and 2026, Petronas will spend $450 million on CCUS projects and $330 million on hydrogen developments. Vietnamese NOC PetroVietnam is collaborating with Danish company Orsted and T&T Group to launch the country's first offshore wind projects. This partnership underscores their commitment to diverse portfolios and regional low-carbon development. The project aims to generate about 13,665,600 megawatt-hours (MWh) annually, utilizing 20-megawatt (MW) turbines   standing 150 to 200 meters tall. The estimated investment in the project is between $11.9 and $13.6 billion, demonstrating their strong dedication to sustainable advancement.
Oil & Gas Service Firms Following Suit
Oil and gas service providers are embracing a dual strategy, capitalizing on the immediate demand for their services in the oil and gas sector while simultaneously strategizing for low-carbon expansion. As Southeast Asian governments and financial institutions extend incentives, service companies are increasingly motivated to participate in low-carbon ventures. This backing plays a crucial role in fortifying the regional supply chain and effectively addressing the escalating need for renewable energy infrastructure.
Amid Southeast Asia's ambition to elevate the renewable energy share in its power generation mix to at least 30% by 2040, service companies are stepping up to meet this challenge. Local service companies may face limitations in expanding into renewables, especially in terms of working capital and expertise. Operators can play a crucial role in providing support for local services companies to develop their portfolios in low-carbon sectors.
Southeast Asia's energy transition efforts are propelled by different countries within the region, each leveraging its unique advantages. From 2022 to 2026, Vietnam, the Philippines and Indonesia are poised to emerge as dominant forces in Southeast Asia's low-carbon landscape. Vietnam's Power Development Plan VIII is geared towards significantly reducing reliance on fossil fuels by expanding both onshore and offshore wind capacity.
Meanwhile, the Philippines has made a resolute commitment to boosting the share of renewable energy in its generation mix. This commitment includes ambitious targets: achieving a 35% reliance on renewables by 2030 and pushing further to reach 50% by 2050. These efforts are generating anticipation to attract substantial foreign investment into a diverse range of solar, wind and energy storage projects.
In contrast, Indonesia is offering fiscal incentives to catalyze investments across various low-carbon sectors, including geothermal, CCUS, solar and wind, with the aim of achieving net-zero emissions by 2060. Additionally, Malaysia and Thailand have their sights set on achieving net-zero greenhouse gas emissions by 2050 and 2065, respectively.
These countries' strategies and incentives form the foundation of their energy transition goals, with an emphasis on attracting third-party investments to support their ambitions.