Extensive load shedding and high and rising electricity costs are a few of the reasons for consumers to seek a switch to solar power in Pakistan. With industry pointing out that the nation pays some of the highest electricity tariffs in South Asia, it is indeed a wonder why solar has not established a stronger foothold in Pakistan. Blame it on the government agencies again, which have not only failed to deliver electricity effectively, but remain the key obstacles to consumers finding their own solutions, even at a time when power outages of 8-12 hours are commonplace, with no respite in sight.
Political Support Missing
Experts point towards the lack of sufficient political support in Pakistan. Caught between a political connect with the giant CPEC (China Pakistan Economic Project) power plants that are mostly coal powered, and a political push for large hydropower projects, other renewable options have been given a miss till now. Thanks to allowing cost recoveries in dollar terms the power sector circular debt increased by Rs 196 billion to a record high of Rs 2,476 billion during the first six months (July-December) of the Fiscal Year 2021-22 as compared to the same period of the previous year. It has continued to rise, with the total payables for the July-April FY23 period estimated to be  at Rs 2,631 billion.  However, it is expected to decrease to Rs 2,374 billion by the end of the current fiscal year, as per reports.
The 'circular' debt can be described as the difference between the cost of power generation and transmission and the subsequent revenue collection at the distribution level. A significant issue is the failure of power distribution companies to collect the dues  from their consumers. T&D losses have stayed stubbornly above 20%, made worse by the covid pandemic disruptions.
The reason for rise in circular debt is the failure of power purchasers to pay power producers and is also known as a cash shortfall across the power supply chain. Experts cite mounting circular debt as a serious problem as it means power companies may be unable to pay for fuel.
The reports say that a major reason for the increase in the circular debt is unreleased and unclaimed subsidies, along with interest charges payable to independent power producers (IPPs) for delayed payments. It was reported that a budgeted subsidy of Rs 108 billion for July-April FY23 has not been utilised while unclaimed subsidies amount to Rs 30 billion, further  stressing the energy sector.
What all this has meant is lack of capital to explore and add renewable capacity, particularly solar to the grid at the power firms level.
Syed Akhtar Ali, an eminent energy expert and consultant, author of various books on the subject of Energy Policy, has been quoted in a recent article of his as saying that "Due to rising cost of electricity, roof top solar has acquired attractiveness. Presently, most of the solar market is from this sector which can be catered by small to medium private sector. Utility sector will be suffering from demand issues as there is capacity surplus and high capacity cost will be deterring solar expansion in this sector."
According to  Syed, "While Indian market is too big to be a model for Pakistan, Turkey can be adopted as a development model. Turkey has an installed power generation capacity of 100 GW. It has a solar PV panel assembly production capacity of 8 GW with 16 producers. Average plant capacity is 200 MW."
For The Common Pakistani, Solar Offers A Better Way
Talking to Saur Energy correspondent, Imran Akram, Managing Director of Pakistan-based UAE Solar, which imports and installs solar panels across the country, exclaimed , "Dil to sabka karta hai ki solar lagwa le (everyone longs to install solar )." He further lamented, "Due to the deteriorating economy and devaluation of country's  currency, it is becoming difficult to go for solar as it becomes very expensive for a common man."
He further said, "Common man wants to get rid of  expensive electricity costs and power cuts. To  ensure continuous power supply  people  want to install solar panels at their homes and  workplaces."
While India's average electricity cost is Rs 5.90 Per unit, Pakistan's electricity cost has increased in recent times, thanks to the devaluation of the currency versus the dollar, and heavy dependence on imported fuels. Informing about electricity cost, Imran said, " The per unit cost of electricity in Pakistan is 45 Rs.per unit( About INR 13)  which is too high, and cannot be afforded by a salaried person. If they want to go for solar, the solar panel costs around PKR 43-46 thousand for 550 watt, a small home need six such panels (3.3kW)to make it solar, which will cost them  around Rs 5 lakhs." That's comparable to costs in India, except that India offers generous subsidies for solar rooftops uptil 10 kW capacity.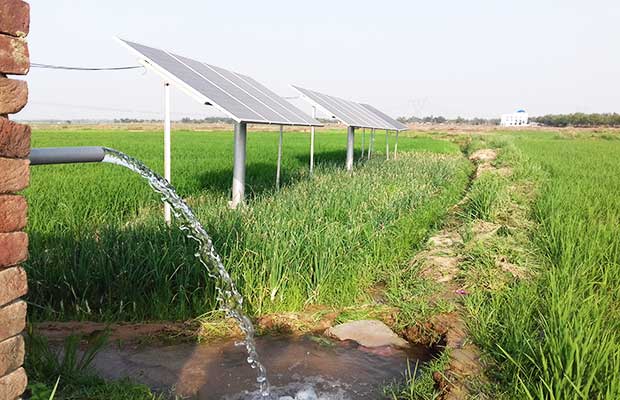 "Though government has removed taxes from the panels but still the costs are not affordable," he pointed out.
In addition, solar inverter  costs Rs. 1 lakh to 2.5 lakh which is again quite expensive for people as business are not flourishing and not companies and not  banks  help people to install PVs  and pay back in installments. " Upper middle class families have already installed the PVs four years back and middle and lower middle class people are trying  to save money for going solar," said Imran. The battery cost is a particularly vexing issue caused by the undependable grid power, something we don't see in India, for instance, where solar is seen more as a power economising measure.
When asked about indigenous manufacturing of solar panels in the country, he said, " There are few firms who say they manufacture but when I have visited there, I could see only Chinese Panels. There might be few small firms manufacturing  panels with low capacity."
Farukh, a freelance salesman, said, " In Punjab region, there are a few small players who make Panels with very low capacities.'
While, Syed said in his article, "Pakistan is importing almost all of the solar equipment from abroad, mostly China." He further put in his article, "Solar PV is not just solar panels. Panels take only 30-40% of the total cost. There are other components like Inverters and Batteries and other electrical parts. There is a considerable scope of local manufacturing of inverters under JV arrangements."
It may be noted that China has a large market for PVs in Pakistan as it has large number of importers in Pakistan. China has invested heavily in Pakistan's power sector as part of a $60bn infrastructure scheme under CPEC.
In the January episode of national grid breakdown, the country had to go without electricity for long hours  for the second time in three months highlighting infrastructural weakness of the nation with high circular debt.
The  same plight can be seen in the villages, too, as Irfan (name changed), an electrician who installs solar panels in his village Muzzafargarh near Multan, said, " We face lot of troubles due to frequent load shedding and many farmers are opting for solar tube wells in our village. These are all Chinese and expensive, too."
However, Imran pointed out, " Earlier it was around 2-3% installations all across the country. Currently, it is around  10%."
Expressing hope for the approaching years, he remarked, "The numbers can be ~ 40% if government supports in a big and fair way and if people could raise voice against the prevalent corruption in the country."
Government Initiatives
It may be noted that last year, the Pakistan government  approved the National Solar Energy Initiative to produce 10,000 megawatts (MW) of electricity through solar energy projects with the aim of cutting down imports of  diesel and furnace oil.
Moreover, the government has taken several initiatives and implemented supportive policies such as net metering, feed-in tariffs, tax incentives, public private partnerships and launching capacity building programmes and developing skilled workforce for the solar sector. Whether these bear fruit in time for the country to reverse a high dependence on expensive, polluting thermal power, time will tell.
The Future 
So what can one expect for solar in Pakistan? It is obvious that with such a compelling proposition, solar has found a way. Unofficial estimates of solar capacity in the country are well above the official estimates, with their bias towards grid connected capacity. The trend will only catch on.
The country's export driven textile sector will also feel the pressure to shift to renewable energy soon, and expect their formidable lobbying to result in some large dedicated capacities soon to service firms in the sector with more dependable, cheaper green energy.
Perhaps, it will take the ultimate arbiter of the country's future and policies, the army, which has already got its fingers in so many businesses, to enter the solar business, for solar to truly get a leg up. Retired officers could do much worse than run a solar business, after all.
With a small yet thriving distributed solar set up already in place thanks to longer experience with solar plus storage systems, besides Hybrid systems, any improvement in the economic situation is bound to lead to a faster uptake of solar, as the power sector crisis will comfortably take years to resolve. Time that the average Pakistani does not seem willing to waste at all.